TealSafe Plus
1.30
Store your passwords, credit cards, PIN numbers, and bank accounts in the TealSafe data wallet. With maximum security and encryption, TealSafe is a must for features and security.
Last update
20 Mar. 2006
Licence
Free to try |

$24.95
OS Support
Mobile
Downloads
Total: 206 | Last week: 1
Ranking
#69 in Utilities
Publisher
Tealpoint Software
TealSafe Plus Publisher's Description
Safely Store your Personal Data: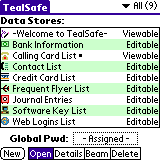 Secure Data Storage
Store your passwords, credit cards, PIN numbers, and bank accounts in the TealSafe data wallet.
A personal encrypted data vault and wallet, TealSafe is the perfect place to safely and securely store and organize all your private, identifying, and financial information or any other data you'd rather keep away from prying eyes.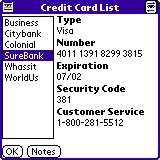 Feature Highlights
TealSafe is ideal for organizing your:
computer passwords
credit card numbers
phone calling cards
software registration codes
PIN numbers
bank accounts
business contacts
journal entries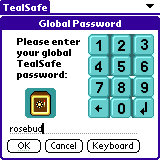 Special Functionality
TealSafe is secure and feature-rich supporting 128-bit encryption, multi-level passwords, selectable icons and layouts, categories, private entries, find function, memopad CSV export, and exclusive list-based data stores. TealSafe is PalmOS 5 compatible, and supports both Sony and Palm full screen and landscape (rotated display) modes.


BONUS: A special for Handango, this enhanced bundle includes TealPoint VersionMaster for PalmOS. A $10 value, VersionMaster effortlessly tracks all your TealPoint applications, finding, downloading and installing new updates, when available.

A leading provider of software solutions for handheld devices, TealPoint Software currently offers 27+ productivity products for the PalmOS platform. Selections include TealDoc, the superior document reader, TealMovie, the award-winning multimedia player, TealAuto, the complete vehicle service and expense log, TealPhone, the replacement address book, and TealLock the definitive PalmOS security solution.


Take advantage of TealPoint's Free 30-Day Trial Policy on all products.
Look for Similar Items by Category
Feedback